November 12., 2019.
Newsletter No7.
Dear Friends and Colleagues,
There is only little more than two weeks to go until the start of dunaPart5.
We hope that you have made your registration at the website, if not, please do so as soon as you can if you are able to come to Budapest to follow the 4-days event of theatre, dance, discussions, site visits and encounters with artists and colleagues from around the world.
You can see the detailed schedule of dunaPart5 with descriptions of the shows and featured artists here »»
You can register to the programme here »»
We have more than 130 international registrations for the event, so make sure that you don't miss this wonderful opportunity to get the best of the Hungarian independent scene.
There are many companies and artists in this year's selection who may seem familiar to you from the previous editions of dunaPart – such as Kristóf Kelemen, dollardaddy's, Hodworks or Máté Mészáros -, however you will also get the chance to get familiar with artists that are new to the international scene – such as Dóra Halas – Fruzsina Nagy – Soharóza or Lili Stern. In the theatre route you will be able to watch the film version of Death Rode out of Persia. You will also be able to see a performance from Cluj, Romania by the company Reactor. And for those who just cannot get enough of contemporary performing arts we will have a late-night performance of young dance and visual artists, Phoenix and you'll also be able to join the party of the Eva Duda Dance Company at a very special venue on the River Danube.
For more impression, please watch our brand new trailer »»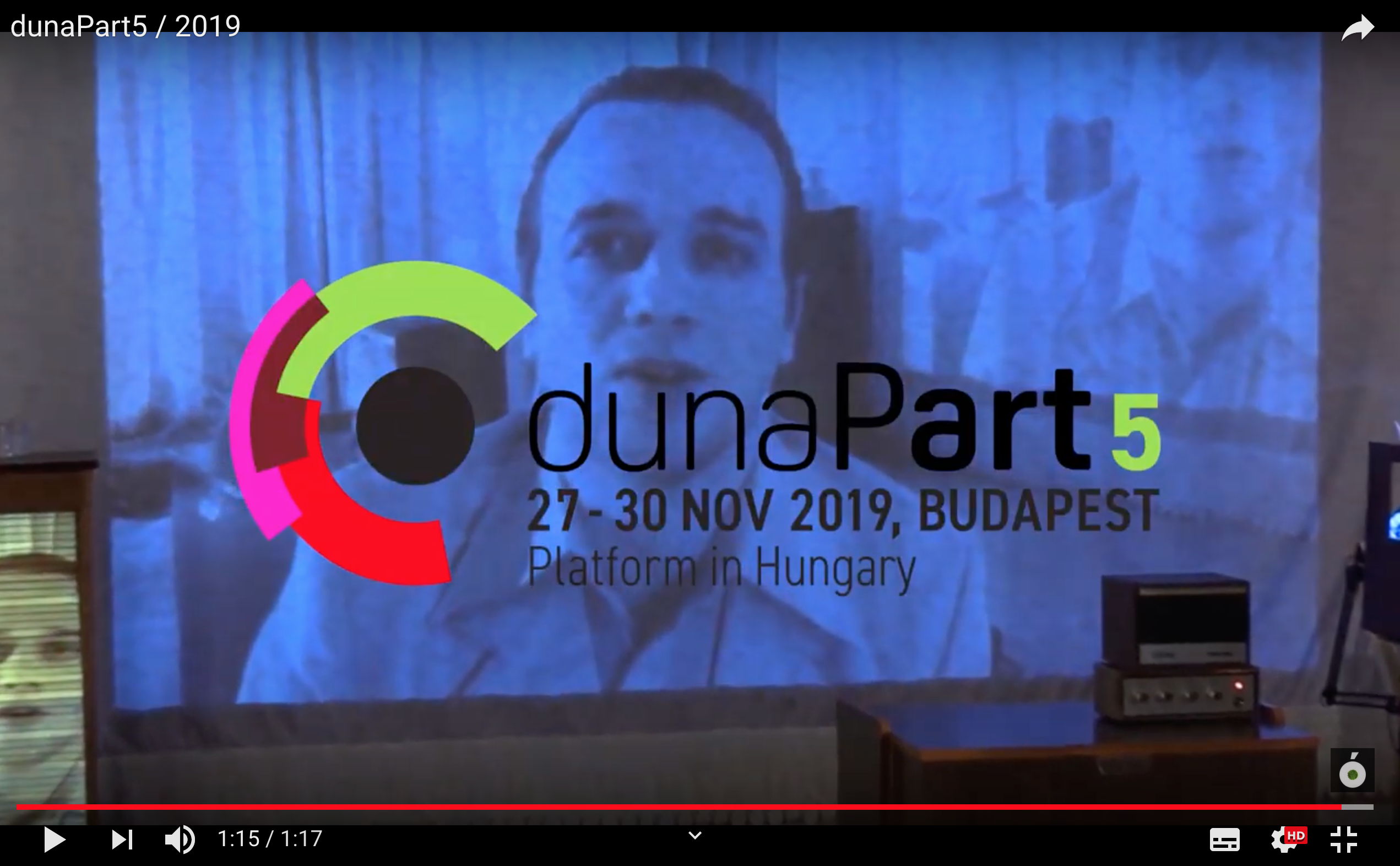 There are various productions in the selection dealing with the Hungarian roma community, so we deemed important to call together a round table discussion about the roma representation in the Hungarian theatre, to learn what difficulties the creators face when they want to talk about 'them' on stage, and what the difficulties are what they have when they represent themselves.
So let's see what you can squeeze into the last four days of November if you can make it to Budapest for dunaPart. For those guests who have already registered we will be sending detailed information about tickets, transport and meals next week.
If you are also interested in the offers of the city theatres in Budapest we have some recommendations for that too. If you arrive one day earlier you will be able to watch Ten at Radnóti Theatre with English surtitles on 26 November. The performance received unanimously enthusiastic reviews from critics and the public, making it one of the most sought-after performances on our current repertory. If you wish to stay longer after dunaPart, you will be able to see the show A Market Day written by Pál Závada, staged by the Mohácsi Brothers on 1 December in the same city theatre. On the very same day in the afternoon you can see another show with surtitles, The Drunks, directed by Péter Gothár at the Katona József Theatre.
Tickets for the dunaPart guests are available at discount prices, for further information and reservation please contact the theatres directly until 20 November: for the shows at Radnóti please write to titkarsag@radnotiszinhaz.hu, for the show at Katona József Theatre please write to weber.edina@katonaszinhaz.hu
If you have any questions please contact us at guest@dunapart.net
See you in Budapest!
the dunaPart Team
To get our regular newsletter, please, subscribe here!